Aesthetic Bureau is proud to welcome the latest addition to their portfolio of superior energy-based devices. A true all-in-one solution, Sinclair Viora's V-Series brings skin therapists and cosmetic physicians a line of multi-modality platforms to address an impressively wide range of concerns across face and body. Fully customisable, these clever platforms can be tailored with a combination of handpieces to suit any and every cosmetic practice, clientele, and budget.
RF Body Contouring
The V-FORM handpiece makes all-over body contouring simple, with three applicator sizes which can address both large and delicate areas. It utilises vacuum in combination with Multi-CORE™ technology, encompassing three distinct RF frequency channels (0.8MHz, 1.7MHz and 2.45MHz) and a fourth mode combining all three. This combination not only ensures more effective tissue connection but improves client comfort.
No-Downtime Facial Tightening
Viora's V-ST handpiece brings their unique Multi-CORE™ technology to the face, for supremely comfortable firming and tightening with no downtime. Utilising Bi-polar RF with contact cooling, V-ST is non-invasive, pain-free, and safe to use on darker skin types.
IPL For All Skins
The V-IPL has the ability to address multiple indications safely and comfortably. Operators can address overall skin rejuvenation, active acne, vascular and pigmented lesions, and hair removal on one simple device thanks to Viora's PCR™ (PulseConfiguRythm) Technology. This allows users to select from three different pulse configurations: Single, Multiple and Rapid, for highly customised parameters that can be used on darker skins.
Female Rejuvenation
Urinary incontinence, dryness, and laxity can significantly impact a woman's quality of life. V-VR offers quick, safe, and pain-free vaginal rejuvenation to address multiple concerns at any age. Co-Polar RF™ delivers highly controlled energy to prevent energy spread or hot spots, and CORE™ Technology delivers RF across three frequencies (therefore, three controlled depths) from superficial mucosa to the vaginal muscular layer.
From Laser Hair Removal to Skin Rejuvenation
Nd:YAG lasers are an incredibly popular choice for cosmetic professionals, for their ability to address a wide number of indications. V-Nd:YAG delivers on this and more, demonstrating significant and long-lasting results on vascular lesions, pigmentation, hair removal (including dark skin types) and overall skin rejuvenation. One handpiece with interchangeable spot sizes means faster, more convenient treatment delivery for the operator, and integrated cooling means greater comfort for clients.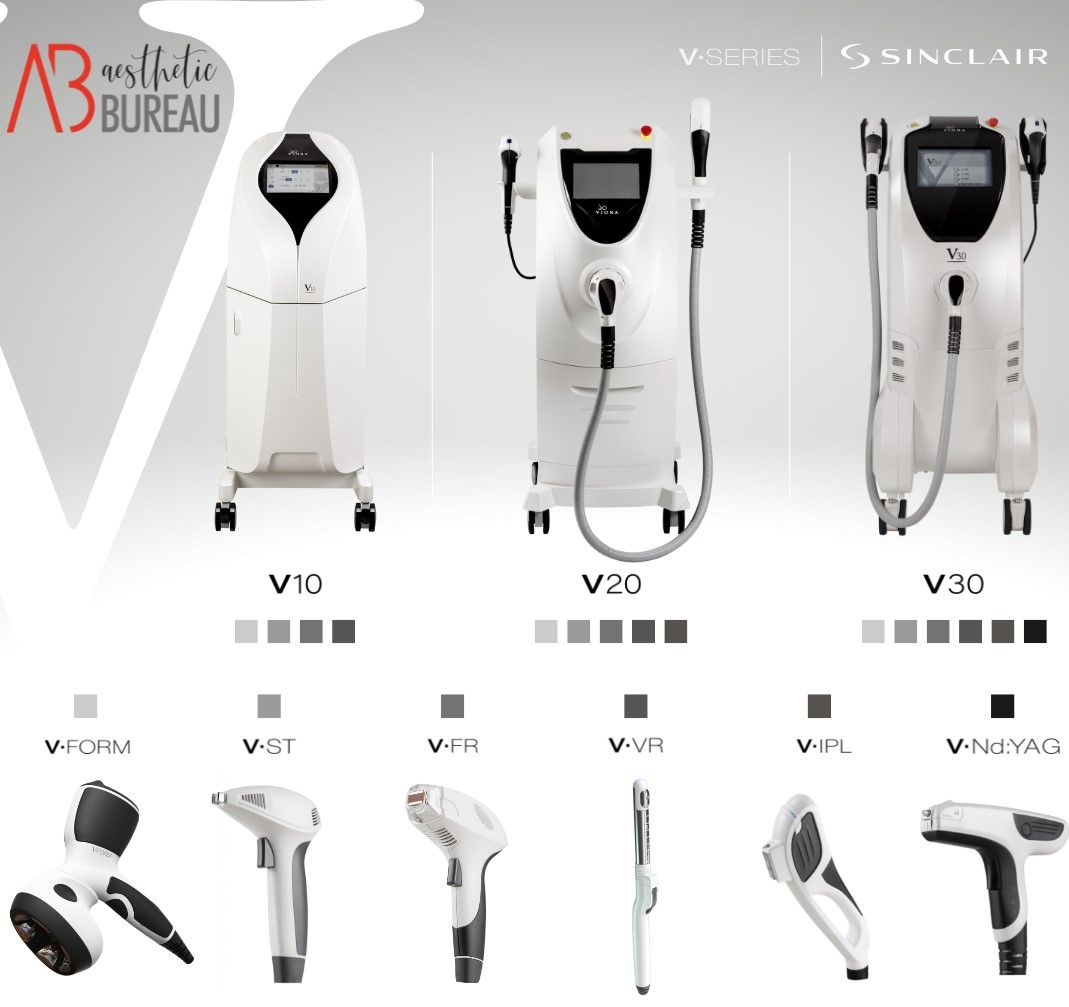 Fractional RF
The V-FR handpiece is one of the most versatile RF fractional resurfacing solutions on the market, incorporating three technologies in one. Ablative, non-ablative, or combined energies can be used to address laxity, wrinkles, scarring, textural concerns, pigmentation, enlarged pores, and acne scars and on the face, neck, decolletage, backs of hands, and the body. SVC™ (Switching, Vacuum and Cooling) Technology offers three advanced benefits for both patient and practitioner to prevent superficial burns, allow for better skin contact for even energy distribution, and superior treatment customisation through the switching of specific fractional RF pins at various distances, influencing the penetration depth and therefore allowing specific skin layer targeting.
Today's consumer is overwhelmed with choice when it comes to their cosmetic treatments. Providers of skin solutions and cosmetic medical treatments have an opportunity to create a unique point of difference; not only by offering a broad range of skin and body solutions, but delivering exceptional results, and with less required treatments. Investing in a globally reputable, multi-modality device is one of the best ways to fulfill this need, as well as increase a clinic's ROI by reducing treatment times through ease of use, and the return of satisfied clients. Skin clinicians will always experience greater patient results when their devices have a high degree of flexibility and customisation, and when their technologies are built on sound scientific evidence and R&D.
For more information, visit aestheticbureau.com.au/viora-v-series or request product information via 1300 858 711 or [email protected]